The staff of Evangelical Reformed Church seek to enable all of our members to celebrate the gospel of Jesus Christ in word and deed.

The Rev. Kirstin Shrom-Rhoads

Associate for Faith Formation and Parish Life
Kirstin has been serving as our Associate Pastor of Spiritual Formation and Church Life since September 2022. She is an ordained UMC Deacon in connection through the West Ohio Conference and a graduate of Lancaster Seminary as well as having a Master's degree in Group Counseling and Organizational Dynamics with a Certificate in youth and young adult ministry. She has most previously served as the Director of UMC camps in Ohio and Maryland. She has also served in the local church and as a campus minister. Kirstin enjoys playing and praying in nature settings with both alone and with others. She enjoys working with young people in nurturing their call and growing in faith and leadership both through experiential adventures and through intentionally inclusive and diverse community-building. She and her family (Jason, Emmy, and Marley) enjoy living in the Frederick area!

Alison E. Shafer
Director of Music
Alison has served ERUCC for 37.5 years. She began as an organist/choir director in September of 1982.
Alison has a bachelor's degree in Church Music and Religious Education from Hood College.
In addition to her work at ERUCC, Alison is busy as a freelance musician, piano/organ teacher, music director for theater productions at McDaniel College, Hood College, Shepherd University, as well as local theater companies. She is also a member of Phi Kappa Phi.

Tyler L. York
Office Administrator
Before joining the staff of ERUCC, Tyler has been, and will continue to be, an active member of the congregation. He currently serves as a member of the Stewardship/Generosity Committee, served as an elder, enjoys helping with fellowship, and was a recent confirmation mentor. Professionally, Tyler was a special education elementary teacher for the past 9 years. He most recently led his school's Special Education department as its Instructional Coach. Prior to working in education, Tyler's career was in the arts. He held administrative positions at Boston Lyric Opera and Emerson College, his alma mater, before moving to the DC area in 2013. He moved to Frederick in 2018 with his husband, Owen and together became members at ERUCC in January 2019. Tyler and Owen are licensed foster parents who are currently caring for three wonderful children.

Tricia Coffey
Tricia has been a long-time member of ERUCC, playing bells in the handbell choir and the chimes in Trinity Chapel. She joined the staff 10 years ago and serves as the director of the Children's Music and Movement Group (for ages four through fifth grade) and Young Spirit (choir for youth in sixth through 12th grades). These groups regularly participate in worship services by sharing their musical talents.
Tricia is a native of Frederick. She graduated from Ithaca College in 1990 with a bachelor's degree in Health Information Management. Her love for working with children and youth, as well as her love for music, guided her to fulfill those passions by leading these two musical groups at ERUCC.
Tricia is married to Tom Coffey and they have four children, all of whom are members of ERUCC.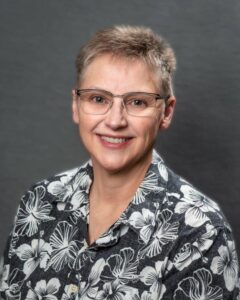 Jaci Clayton
Facilities Manager
Jaci began her spiritual journey with Evangelical Reformed United Church of Christ (ERUCC) when she relocated to Frederick, Maryland in summer 2011. Following her heart, Jaci left her home state, North Carolina and a 23-year career in Commercial Property Maintenance Management. She is a graduate of Wake Technical Community College, Raleigh, NC and the Realtor Institute. She actively holds dual real estate licenses in both the State of Maryland and North Carolina. Currently, Jaci serves as the Facility Manager for ERUCC.
Jaci received numerous recognitions and awards during her career as a Superintendent at Drucker + Falk. She has saved four human lives and countless animals. In 2005, Jaci won a short essay contest and had an opportunity to carry the 2006 Winter Olympic Torch in Pieve and passed the flame on its way to the final destination in Turin, Italy. Jaci Clayton and her spouse, Tam Rushbrook, a retired US Military Officer, are the proud parents of a son, Jonathan.